Self Care is So Important
Life has been a little crazy for me the last few months.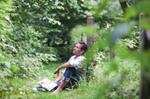 I am so excited to be moved into our new home and feeling somewhat settled.
This past weekend I had the honor of attending a Creative Collaborative Retreat in Cincinnati.
This is the 2nd year I have attended. I have found that taking time to get away, immerse yourself in self-care and connection make a world of difference.
This retreat is about reflecting, renewing, receive and tapping into your creative self. We danced, meditated, sang, laughed, took time to walk in nature, walked a labyrinth and so much more. Each of us brought the gift that is ours alone to share. There is magic that happens when a group of women get together.
When was the last time you took time to get away, put all the stuff in your life behind and just be?
I invite and encourage you to make time for yourself, especially before and during all the holiday stress we put ourselves into begins. It does not have to be a long weekend, it can be taking a few hours to do what feels best for you to reflect, renew and receive.
I would love to hear what you do for self-care. Please post on my Facebook Page.